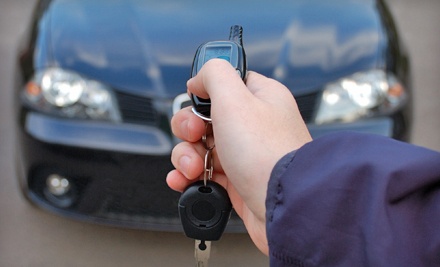 280 Worcester Rd., Suite 111
Framingham, Massachusetts 01702
508-620-7321
Get Directions
from
$129.00
$275.00 value

•

53% off!
This Deal is No Longer Available
Up to 55% Off Remote Auto Starter 
Many of cinema's iconic moments involve automobiles, from the famous car scene in Cars to the unforgettable car scene in Cars 2. Take pride in your ride with this Groupon.
Choose Between Two Options
$129 for a basic remote auto starter with installation (a $275 value)
$159 for a remote auto starter with key immobilizer bypass and installation (a $350 value)<p>
The basic option includes one four-button remote, valid for cars without a chip in the key, allowing owners to start their rides from up to 1,000 feet away. The second option of this deal includes a four-button remote, a 556UW key-immobilizer-bypass system—with an extra customer-provided valet key hidden inside the bypass module—that allows the car to start remotely. This option also includes remote keyless entry. Some cars may require a different bypass module or multiple bypass modules, or an alarm disarmer that is not included with this deal and will require an additional fee. Please call in advance to check if your car is compatible.<p>
Time Left to Buy:
One basic remote auto starter and installation

$129.00

$275.00 Value

•

Save 53%

($146.00)

130 bought

One remote auto starter, key immobilizer bypass system, and installation

$159.00

$350.00 Value

•

Save 55%

($191.00)

160 bought
Fine Print
Limit 1 per person, may buy 2 additional as gifts. Limit 1 per visit. Valid only for option purchased. Appointment required. 48hr cancellation notice required. Basic option valid only for automobiles without a chip in the key. Not valid for Mercedes, BMW, SAAB, Volvo, Porsche, Audi, VW, Land Rover, or Range Rover. Valid only for automatic transmissions. Subject to vehicle eligibility; incompatible vehicles will be refunded. Extra fee for vehicles that require a specialized module, and if alarm disarm wire is needed. Trunk release not included.