Raise your hand if you're Valentines shopping for a guy who actually cares if he's bestowed a romantic gift on Valentine's Day. That's what I thought.
Presenting a Valentine's gift to a regular guy means more to you than him. So skip the biker Teddy bear sporting naughty love embroidery, or the boxers bursting with tired V-day hearts. Try a novel approach: things he needs or will actually like past the greeting card holiday.
4 Not-So-Romantic Valentines Gifts for Guys
Sit on the Couch and Play With Fire
According to Troy and his bbq blog, this wireless bbq thermometer is the "latest, greatest, most bad ass remote thermo out." Furthermore, he instructs, "stop peeking and let the bleeping meat cook, already." This meat/fire tool, permits your dreamboat to sit on the couch and grill at the same time.
Maverick ET-732 Wireless Barbecue Thermometer
Amazon, $69.99
Bad Ass Accessorizing
The guy who considers choosing a plain T over a graphic T "dressing up" does not want a pinky ring or a new diamond stud. This stud doesn't actually want jewelry at all. Sell Plain-T Guy on this leather bracelet by calling it a "cuff." Yeah! And tell him it's made from the reclaimed belt of a dead guy. So romantic.
Men's Leather Cuff
Etsy.com, $55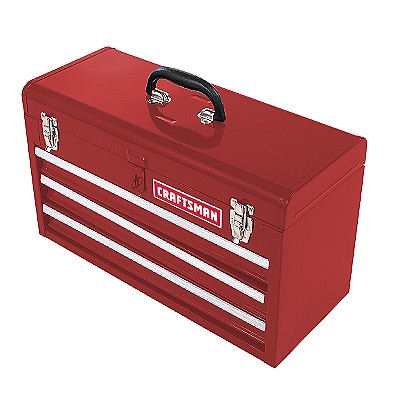 Size Doesn't Matter Tool Box
Show him it's not the size of the tool box, it's how he uses it. Like a man-purse, a portable tool chest transports project necessities from garage to hot zone without abandoning helpless tools on route. And it's hot Valentine's red.
20″ Portable Tool Box
Craftsman.com, $44.99
Permission to Geek Freely                                                                   
You have nothing to wear to my office Christmas party, but I love you anyway. And nothing says I love you like the Cure (post Kiss Me, Kiss Me, Kiss Me – of course) spelled out in 2-D cartoon figures. Go for nauseating and order his and hers. Genius.
Friday, I'm In Love T
Threadless, $20
Bonus idea: Valentine's Bye Day
Deliver his "Get Out of Valentine's Day Free" card weeks in advance and watch the relief wash over his face as he realizes he forgot Valentine's Day. No tricks here, ladies. Only give this gift if you truly mean it. No stomping around or inflicting the silent treatment come February 14.